Play Group
Child from 18mths to 2½ years old will join our Playgroup. As children of this age group emerge from babyhood, they require both a stimulating and nourishing environment to develop themselves wholesomely. Practical Life activities and manipulative play help to develop their motor skills, sense of order, independence, concentration, responsibility of self and the environment. As they explore their environment using five senses which stimulates their learning senses through sensorial activities.
Nursery
N1 (2½ years to 3 years)
N2 (3 to 4 years)
As a continuation from early learning experience from the Playgroup, children of this age group are able to work with more complex exercises within the Practical Life and Sensorial Activities range. Activities are mainly hands-on, fun and concrete at this stage and this sets the basis for later/further development in abstract concepts. Early mathematical concepts, word building skills and early writing skills are taught in the Nursery stage. Foundation is also laid at this stage for good work and social habits.
Kindergarten 1 (4 to 5 years)
The Kindergarten group consists of children who are 4 -5 years. At this stage children are ready to take on more complex exercises in a more disciplined way. Mathematics, language, writing skills will be further enhanced through Montessori activities. Children will also be involved in early science and cultural activities (Botany, Zoology & History), which introduce them to the natural environment around them.
Kindergarten 2 (5 to 6 years)
This programme caters to children of 5-6 years in age. They will be taught Mathematics, Mandarin and English that will prepare them well for formal primary schooling. At this stage, they will be able to embark on elementary reading on their own. Educational quizzes and games will be also be organised to challenge the children's brains to encourage them to think deeper into a subject. At the end of the year, a concert will be put up by the children for their graduation ceremony.
Montessori's Enrichment (N1 to K2)
Monday to Friday: 1:00 pm to 3:00 pm Enrichment programmes are meant to provide extended learning opportunities to expand your child's area of interest and strength to learn concepts with greater challenge, depth and breadth in particular subject areas of our curriculum. Our extension programmes are conducted after your child's regular morning class. Meal will be provided before the lesson begins.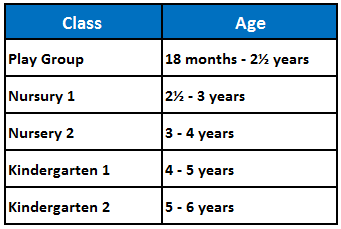 ⏰ Operating Hours
Monday – Friday:
9:00 am – 12:00 nn ( 3 hours: Playgroup & N1 )
9:00 am – 1:00 pm ( 4 hours: N2 – K2 )
9:00 am – 3:00 pm ( 6 hours: N2 – K2 )